It's undeniable that a huge part of Christmas celebrations orbit around the festive table. From Pre-Christmas gatherings, to the all important Christmas Dinner itself, many hours will be spent here making merry with friends and family, so make sure your Christmas decorations spread further than your tree. A Christmas table is great opportunity to create a wonderful unique display and inject a festive atmosphere to your dining room. Here are some fantastic ideas from top interior designers and style gurus to make your Christmas display this year extra special.
Image: Carindale
Creating a Base for your Christmas Table Styling
Choosing a colour scheme
The options for a Christmas colour scheme are now wider than ever before, so get started with advice of Tor Vivian of Tor interiors:  "… it is important to use materials that reflect the interiors – enhancing, not detracting, from your home. There are a lot of tasteless and brash Christmas decorations out there, but it doesn't need to be like that."
Build on existing elements of your home and Christmas decorations you already own, like interior designer Lucinda Sanford. "I think it's extravagant to have a different scheme every year, so I'll usually buy something in the January sale that I've had my eye on and use it the following year. Our drawing room is dark red, so it 'holds' a traditional Christmas look very well."


Image: Papier
For the past couple of years, there has been a growing trend for building Christmas schemes on a white base, which provides great flexibility year by year. Try adding green for or a winter woodland theme, red for a candy-cane theme or bright jewel colours for a fun yet decadent look.
You can adjust the mood of your arrangement using different textural finishes, whether you're seeking a fun playful scheme or something more tranquil. Most Christmas schemes are enhanced by metallic highlights or raw natural materials, but don't be afraid to experiment to create your own unique aesthetic.
Choosing a tablecloth
The tablecloth will set the tone for the rest of your display so it's important to get it right. A crisp white fabric will create a clean look that will draw attention to your display, whist a block colour or plaid will add richness.
This is the preferred choice of designer Paolo Moschino and Philip Vergeylen: 'Our table is always red, green and silver. Each Christmas we wash and starch the same French linen tablecloth, which we bought years ago from Guinevere Antiques. It is an important tradition.' Alternatively take inspiration from Tim Gosling and go without a tablecloth altogether and embrace a natural wooden tabletop.

Creating a Centerpiece for your Festive Table
Introduce natural materials
Adding foliage to your Christmas table is a definite favourite among style-conscious designers, including Suzanne Sharp: 'I always rope in Vic Brotherson of Scarlet & Violet for the flowers and foliage. The table is scattered with stems of cosmos but you should never have too many dense or tall arrangements of flowers on the table, as your guests need to be able to look through them.
The cosmos are particularly good because they are in tiny, fine glass bottles that are easy to shift out of the way when you pile heaps of food on the table.' Eucalyptus and pine are also popular choices for table decoration as they not only look stunning, but smell great too. Try arrangements in vases or create a homemade wreath or garland. Niloufar Bakhtiar-Bakhtiari of  NBB Design uses potted ponsettias which is great quick and easy solution



Image: Jessica Elizabeth Interior Design
Similarly, try adding fruit to your scheme, such as sugared grapes or oranges decorated with cloves. This will give a for a gorgeously spiced  Christmas scent. Also take the advice of Paolo Moschino and Philip Vergeylen: 'Never limit decorations to just the table.
Our house is filled with amaryllis and we cover the chandelier with greenery from the garden and top it up with pretty bits and pieces from New Covent Garden Flower Market. If you can face waking up early enough to get there in good time, then Geoff at Quality Plants is the man to go to for this kind of thing.' Adding matching elements throughout the room will really draw the scheme together.
Make from scratch
Christmas is a great time to indulge in some crafting, and the internet is full of great ideas for festive makes. Even the top interior designer are't beyond some do-it-yourself. Take inspiration from Emma Sims-Hilditch "We make decorated gingerbread people, which is so great to do with children.
Cut a little hole in the biscuits and hang them on the tree." The opportunities for a Christmas table are endless, from mason jar candle holders and felt christmas trees, to extravagant displays of vintage finds. You don't need great crafting skills either, even filling a vase with baubles or wrapping a few empty boxes with paper and ribbons, can add a lovely personal touch.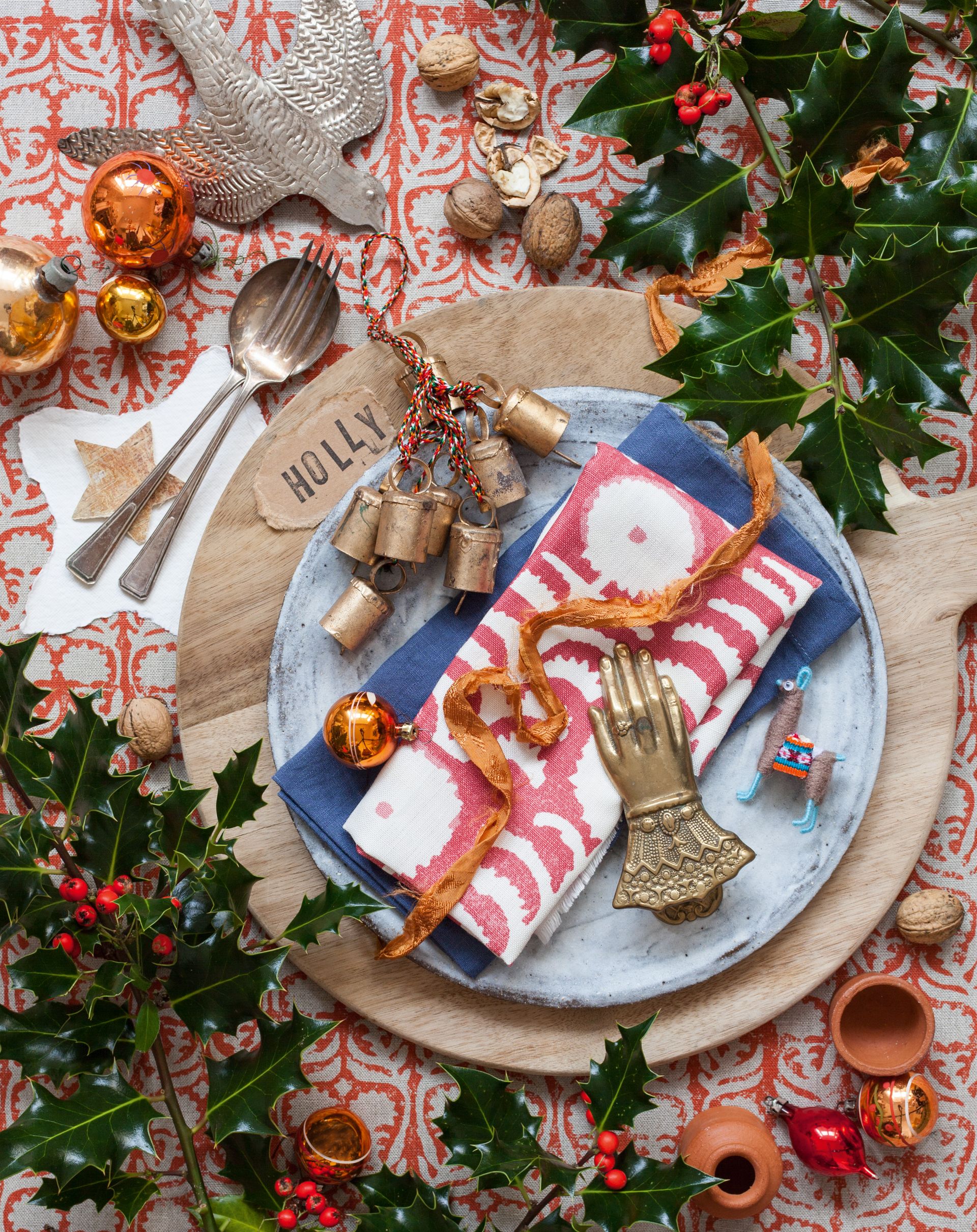 Image: Kasia Fiszer Ideal Home
Be creative with different arrangements
A center piece needn't mean one item placed in the middle of your table. There are many different approaches you can take. "I really believe in collections of things," says Sims-Hilditch. "Rather than putting one wooden Christmas tree on a mantelpiece, make a collection of five different things – put a wintry scene in an old gilded picture frame, put a white angel in front of that, and add a cluster of fir cones and a glass candlestick. It's a little piece of theatre."
Or use Tim Gosling's method: 'Visually, I like to have a strong line down the centre of the table that provides an architectural element; a dense arrangement of decorations through the middle always looks great. The key is quantity – if you're going to do something, do it with panache, style and commitment.'

Image: Fashion Mumbler
More is More
'Christmas is all about exuberance, magic and chaos,' says Tim Gosling. 'If you try to do things that are too controlled or tasteful, then you're missing the point.' Use items you love in your decorative scheme and don't be afraid to let go. Interior designer Virginia White even lets her children in on the fun, 'My girls are great table setters and there is a competition to see who can do the maddest, smartest setting.' If you have a beautiful heirloom that brings back happy childhood memories, make space for it in your display. Even if it doesn't work perfectly it will bring joy to your festivities.


Image: Liberty London
Creating Christmas Table Settings
Bring out the best
Christmas is the perfect time to use our your best crockery, silverware and glassware, and really enjoy your favorite pieces. If you choose to mix these with more modern items, take the advice of Joy Lagmay, designer at 1508 London "I've seen a lot of rose gold used for place settings, which goes really well with the green of fir – those colours are very luxe and rich… Keep the table setting simple rather than over-decorating every element. You could have simple white china adorned with a Christmas placemat, or cutlery wrapped in a decorative napkin ring."
Image: John Lewis – IdealHome.com
Make it personal
Joy Lagmay is also loves to personalise her Christmas table for her guests; "Make calligraphy name cards for the table (it's best to get in a bit of practice before the big day). You can also do this on gift tags for presents." Adorn your table with festive treats, such as crackers, party poppers or mini presents to embrace the joyous spirit of Christmas and host a dinner party to remember.



Image: Paul Raeside -IdealHome.com
Don't forget a rug!
No room of the home is complete without a beautiful luxurious rug. At Bazaar Velvet we have a wide range of stunning designs suitable for the dining room, adding sophistication and comfort without compromising on practicality. Browse our collections or contact us for expert advice and adorn your dining room with a beautiful rug this Christmas.

Persia Reloaded Rug by Bazaar Velvet